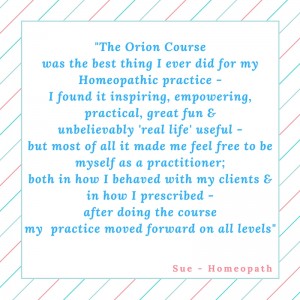 We are happy to announce that we will be collaborating with The Centre for Homeopathic Education in London to run the Orion postgraduate course this October.
This 5 month part-time programme is designed for practitioners to expand their skills and understanding of the complex subject of homeopathy. Mike Bridger and Dion Tabrett have many years of experience in practice and teaching, which enables them to simplify complexities, dismiss the absurd and impart their knowledge in a lively and enjoyable way. Their love of the work is both infectious and inspiring, and not surprisingly the course moves from strength to strength every year. The course is now in it's 18th year.
This year Marcus Fernandez, Principal of CHE, will be introducing to the course the concept of 'The Three Principles'. This will enhance, expand and empower participants to recognise their own individuality and skills from the perspective of simplicity and natural wisdom. The philosophy of homeopathy is transformed from belief and idea, into the living and breathing world of clinical practice.
Mike's unique contribution to homeopathic thinking is the system of 'case mapping'. He has taught this subject for many years now and it will transform your practice making it more enjoyable and successful. While rigorously adhering to Hahnemannian and Kentian philosophy, Mike illustrates how treatment is a process rather than a single act and often requires more than one remedy. By looking at the initial case it is possible to predict the course of treatment that a patient undergoes and therefore be able to deal with critical situations with confidence and skill.
Dion operates from a similar perspective but focuses more particularly on his love of Ellis Barker and Burnett. His love of small remedies and his enviable skill in clinical prescribing and use of the smaller remedies makes him one of homeopathy's best-kept secrets. Suffice to say there is an extraordinary chemistry between these three lecturers, which will invigorate those who are feeling a little 'stale' or disillusioned in practice as well as those needing inspiration for starting out on the road to being a homeopath.
Venue: Regents University, Regents Park, London.
Dates: The course takes place over 5 full weekends, 9.30 am – 5.00 pm each day as follows –
October 22 and 23 2016
November 19 and 20 2016
December 10 and 11 2016
January 14 and 15 2017
February 18 and 19 2017
Fees: Full price £1200 / Early bird price £795 (before Friday Sept 9th 2016)
For details of the payment plan option please contact Lorraine – info@chehomeopathy.com
http://uk.chehomeopathy.com/events/orion-postgrad-course-2016/
Places will be limited so book yours by Friday 9th September to guarantee the early bird price.