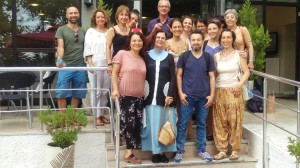 People might think that as a college in the South West of England our students travel to college on combine harvesters, with straws sticking out if their mouths, and that the only proving we do are different varieties of cider (mother tinctures of course!).  We are small it is true but then so are our remedies. We have students from Malaysia, Spain and Italy. We are also the mentor college for another college in Ghana.
I have  just spent a weekend teaching and discussing how we can form an affiliation with the Homeopathic Association in Istanbul. This city is a wonderful 'melting pot' of culture from both East and West. It is and ought to be, a great example to all of us.
While there, it was a shock to watch on CNN news that the United Kingdom had chosen to become Little England. While political barbed wire was being erected in Europe, C.C.H. and The Turkish Association were discussing a mutual exchange of staff and students at our colleges and many other ideas too. It would be understatement to say that both the staff and the students there were more than welcoming. Their commitment and passion for homeopathy is palpable.
While writing this article I learnt that suicide bombers had attacked Istanbul airport the day after I left, killing over 40 people. I believe that such small gestures of co-operation between good people is a powerful weapon and in the end will prevail.