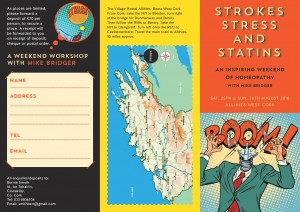 There is nothing like learning from a master Homeopath unless you further combine wonderful teaching with fun, a relaxed friendly atmosphere and a beautiful location with fabulous food. (Thank you Karen Austin for the beautiful food.. more about your recipe book later).  This has been the Allihies Experience for the past 10 years for those lucky enough, like myself, to have participated, enjoyed and benefited from it both professionally and personally. This year was the 10th anniversary of the Mike Bridger and Bernie Smith Duo summer seminar offering in Allihies at the very South West edge of Ireland. The theme this year was Strokes, Stress & Statins.
Mike and Bernie as always put on a professional,  entertaining and engaging seminar and by that I mean that they managed to create an atmosphere where even the shyest participated and the bold and forward got drawn into the repartee Mike and Bernie created. Certainly a lot of stress was alleviated during the course of their teaching.  A frank discussion of why we as homeopaths get stressed was painted with a picture of the average homeopaths morning start of  10 calls often opening with the statement " I took the remedy and this has happened so what do I do next",  not to mention the emails, WhatsApp, Facebook Messenger etc. looking for advice as the hypericum they gave from the kit had not helped their friends bruising!  Wonderfully woven into this tapestry of day to day homeopathic life were remedies that actually help with burnout not to mention the heart attack or stroke that all this stress can and often does lead to, as evidenced in the lives of those both teaching and participating.
One certainly came away from the whole seminar better equipped to handle stress .. one jovial suggestion was to become an acupuncturist, as while people might happily pop homeopathic pills in to their mouth to medicate themselves, they think twice before sticking needles around themselves and certainly wouldn't be ringing or emailing etc about that 😊, but humour aside we were given a very holistic tour around the subject matter. The need to be integrative where needed and to employ meditation and even language in our consultations to both help our patients and make it easier for them to share with us the information needed to find a really helpful remedy. We were also encouraged to use the many tools at the homeopaths disposal including tissue salts such as Kali phosphoricum to help mental exhaustion!  We were given wonderful insights into remedies which worked to restore health in stoke patients, such as the remedy Causticum,  long after the stage where no further recovery would normally be deemed possible, due to the time lapsed after the actual stroke.  This provides not just us with hope, but just think of what our hope, in turn, offers our patients.
Each session of teaching was broken up in so many subtle ways such as changing pace, engaging participants to contribute all helping ensure attendees did not suffer information burnout – brain fag. This was further enhanced by tea breaks filled with chatter and laughter. Main meals also broke up the day provided by the wonderful Karen Austin of Lettercollum House Project Experience fame and for those of us lucky enough to live in West Cork each issue of the West Cork People has one of her recipes. Karen provided us with the most amazing vegetarian cuisine that had even the carnivores in the group looking to find out about Karen Austin' wonderful book The Lettercollum Cookbook, featured in various gourmand guides.
The most impressive part of all this is that the whole package cost less than a single meal in a Michelin star restaurant and the food alone was worth that. When viewed like that you had an extremely informative weekend with two top class homeopaths and teachers along with board and lodgings for free.. not a bad deal at all. I am already looking forward to next year when the duo of Mike Bridgers and Bernie Smith enlighten us about the menopause. I am sure there will be lots of fun and learning and of course, good food something not to be missed particularly if you want to improve your skills as a Homeopath on what can be a hot topic flushed with emotions. I for one can't wait for the next saga to arrive.