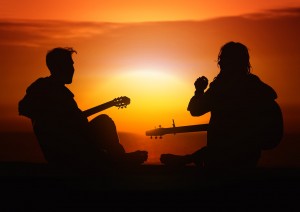 It was Monday night, band practice night. The only way to start the week. The band's drummer had left and we were looking for a replacement. Four of my best friends where with me as we set up our guitars, microphones and keyboards and all watched our new drummer unpack and set up his snare drum and high hat. We were all late teens, early twenties. He was older, had a mustache and wore a stripy, colourful jumper with brown corduroy trousers. Yep, Lynn Forte was rocking the geography teacher mash up with the undercover drug squad look to perfection! But looks can be deceiving.
Halfway into the first song it was clear to all of us that it worked! So we practiced and jammed through the night and had a great time as musicians do when it all clicks together.
Near the end of the night, before we started the next track I pulled out of my pocket a Ventolin inhaler and took two, short, sharp inhalations on it.
Lynn looked at me and said "Asthma?"
"Yep" I replied.
Lynn: "Great, I'm looking for cases for college, wanna be a guinea pig?"
Me: "Er, ok, up for experimenting, but guinea pig for what?"
Lynn: "Homoeopathy"
Me: "Back off mate, we only just met and I'm not up for that!" (Joke)
Me: "Whats homopopathily?" (Yep I knew nothing!)
Lynn: "A type of medicine, bit like herbalism but more involved, using minerals and poisons and bacterias and viruses as well. Come round to mine one night and I will take your case and give you some remedies for your asthma."
Me: "Deal"
And so that's what happened. I visited Lynn. He took my case and then prescribed a remedy for me. Three to four months of treatment later and no asthma symptoms whatsoever. No need for Ventolin, peak flow meter sky rocketing. Lung function tip top. Stopped all allopathic medications in 1990 and not taken or needed any since then.
After this experience I decided to read up on the subject. Lynn lent me books. He still does. I got in to it and went to study in London. I started my first year as Lynn finished his last. So we got to travel on the trains together and talk homeopathy and music. We no longer travel on trains together but still do play music and still talk homeopathy. And long may it continue!
Dion studied at the London College of Homeopathy, graduating in 1992 with the Licentiate of the college of Homeopathy (LCH). This was followed up with post graduate study and the award of Member of the college of Homeopathy (MCH) in 1994. He then continued studying with the Open University and graduated with a BSc(HONS) in Natural Sciences in 2003 and an MSc in Molecular Biology in 2007. Both of these degrees focused on human anatomy, physiology and pathology. Dion has taught at various colleges in the UK, Ireland, Istanbul and New York. At The Contemporary college of Homeopathy in Bristol, Dion teaches Case Analysis Methods, Anatomy and Physiology and works in the college clinic.