The Ghana Homeopathy Project (GHP) is celebrating it's 10 year anniversary this year. The project was set up by Linda Shannon, who is a long-standing lecturer here at the Contemporary College of Homeopathy.
The GHP is a very pioneering project, who's vision is to train homeopaths who can in turn train others. Their intention is to make a difference and that, as a result of our shared work now, many Ghanaian's will receive the benefits of homeopathic treatment and education in the future. They now have three independent training centers in Ghana.
Below you will find the first page of the GHP annual newsletter – which includes case studies, up to date news and information on how you can get involved in the project via volunteering or helping with funds. If you would like to read more please go to the CCH facebook page – CCH: The Contemporary College of Homeopathy.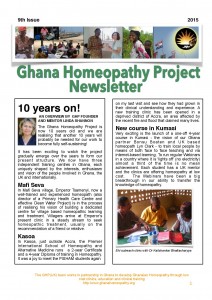 To help and support some of their students, the project provides bursaries for those in need. They are currently trying to raise more funds for this and if it's something you feel you could help with then please donate via their just giving page – https://www.justgiving.com/ghanahomeopathy-project1